Watch 2nd Quarter Final Australia vs West Indes ICC Cricket World cup 2011 match Video Highlights.
Match fixture between Australia & India teams was scheduled as following:
============================================================================
Wed Mar 23, 2011
08:30 GMT | 14:30 local
13:30 PKT Quarter Final – TBC v TBC (2nd Quarter Final Australia vs West Indes)
Shere Bangla National Stadium, Mirpur
Here is detailed schedule of CWC 2011 matches:
Match Result / Scoreboard:
Link Will be placed later here.
2nd Quarter Final Australia vs West Indes match video highlights will be placed below soon after live broadcast of match.
Match Video Highlights:
India vs Australia Full Match Highlights World Cup 2011
India beat Australia by 5 wickets in a thriller. Superb half-centuries from Sachin Tendulkar, Gautam Gambhir and Yuvraj Singh helped India register an exciting win as they chased down 260 successfully.
*******************************
India vs Australia Top Shots World Cup 2011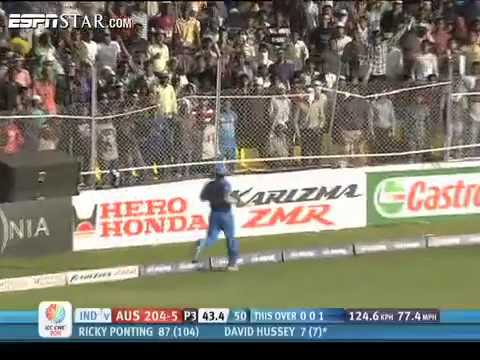 Some blistering shots from Sachin Tendulkar, Yuvraj Singh and Suresh Raina saw India register a thrilling 5-wicket win against Australia. Tendulkar started in style with a four and Yuvraj finished in similar hitting a four.
*******************************
India vs Australia Yuvraj Singh 57 World Cup 2011
Yuvraj Singh grabbed his fourth Man of the Match award for his match-winning half-century and two wickets. Yuvraj remained unbeaten on 57 to take India to a 5-wicket win.
*******************************
India vs Australia Sachin Tendulkar 50 World Cup 2011
Sachin Tendulkar struck a marvelous half century to provide a good start and stability to Indian innings after Virender Sehwag departed early. Tendulkar hit 53 off 68 balls which included seven fours.
*******************************
India vs Australia Brad Haddin World Cup 2011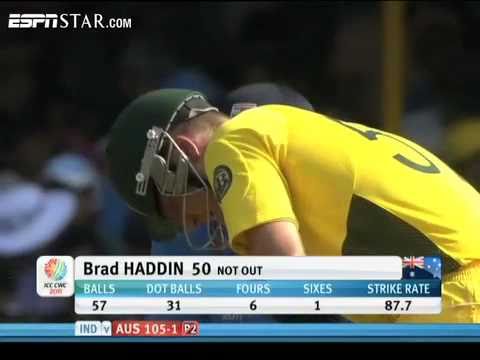 Brad Haddin scored 53 off 62 balls which included six fours and a six. Haddin was looking to hit over the rope when Suresh Raina took a good low catch.
*******************************
======================================
Cricket Websites for Cricket World Cup 2011:
Dont forget to watch video highlights of the match which is played between India & Australia teams?